---
The Ultimate Device For Enhancing Your Life.
If you find it hard to wake up in the morning when it is dark outside and struggle with feelings of lethargy and brain fog throughout the day - I'd definitely recommend giving a 4-in-1 Alarm Clock, Mood Light, Speaker & Wireless Charger a try.
Get the 4 in 1 Bedside Lamp, RGB Light, Wireless Charger, Bluetooth speaker and Alarm Clock all in one with this unique Night Vision Charging Station! It is perfect for charging any device such as your smartphone (iPhone, Samsung, Xiaomi...), tablet, or other USB devices while providing a relaxing atmosphere RGB light.
Perfect Decoration Alarm Clock
The mood light can help you create any mood you want, perfect for bed, bedroom, living room, home, office decoration, it is an ideal gift for birthday, Christmas, New Year, thanks giving and more.
Alarm Clock Lamp Qualities
1. Sleep light, sunrise wake-up

2. Light, atmosphere light, bedside lamp, colorful light effect, Bluetooth

3. Audio, clock, alarm clock, 15W wireless charging Click the bulb button to switch 10 light color modes (solid color, two color

4. Racing, three-color racing, seven-color racing), and the remaining 256

5. Modes and 16 million light colors can be adjusted through the link APP
Dimmable Mood Light
Click the bulb button to switch between 10 light color modes. Other 256 modes and 16 million light colors can be adjusted through the APP. The brightness of the light can be adjusted continuously, and the light will gradually brighten or dim. Meet your lighting needs in any scene.
15w Wireless Fast Charging
Effortless Charging Process It's easier than ever to charge your phone with the Multi function Wireless Charger Alarm Clock.
There is no need to connect the charging cable to your smartphone - just place your phone on the charger to charge it.
Sleep Aid Light

The best version of yourself starts with the best sleep Helps you relax before bedtime and get the sleep you've always dreamed of.
Bluetooth Speaker
The lights can be changed to the rhythm of the music or adjusted to your liking. Sound quality beyond imagination. 360° Surround sound structure.
Specifications:
Color: white, black
Material: ABS, PC, metal
Communication mode: Wi-Fi (2.4G) + BLE module
Control mode: control by button, control by APP
Input: 24W adapter (12V 2A), DC input
Output: Type C output
Power: 24W (maximum)
Speaker: 3 W
Weight: 700g
Dimensions: 22.9 x 8.4 x 23.1 cm
Wireless charging: max 15 W
Package Includes:
1—G Speaker
1—Adapter
1—USB Power Cord
1—User Manual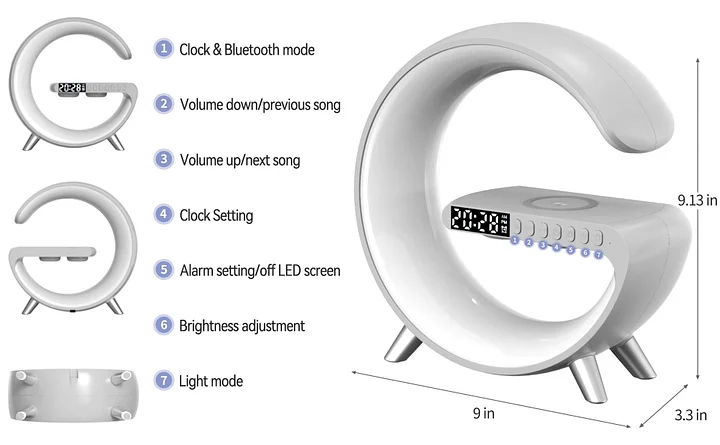 Frequently Asked Questions
1. How long is the power cord?
It is almost 5 ft. Similar to the length of Phone cable charger.
2. Can I connect it to a PC to use as its speaker?
Yes, It can be connected.